Patsy Dietz-Shipley
Co-founder of NAVY SEAL DANNY DIETZ FOUNDATION
Veteran, Wife, and Mother
Patsy, was born in Spain and comes from a Military family. Her grandfather was a NAVY Chief and her dad was a Master Chief NAVY SEAL. She joined the NAVY in 2000 serving in fighter Jet Squadrons in Virginia Beach. She Deployed on the Aircraft Carrier GW in 2004 and got out in 2005. She is the surviving spouse of NAVY SEAL Danny Dietz and has dedicated her adult life to keep his memory alive through charitable work and staying active in the SEAL community. She is currently remarried and has two daughters whom she focuses on and stays busy with.
Dan Quinlan
Owner Quinlan and Company
Founding Board Member NAVY SEAL DANNY DIETZ FOUNDATION
Danny Quinlan is Co-Founder of the Navy SEAL Danny Dietz Memorial Classic and Co-Founder andFounding Board Member of the Navy SEAL Danny Dietz Foundation.
Danny was born in Chicago, IL soon after he moved to Jersey Village, TX. In 2004 he moved to Hockley, TX where he planted roots for his family. He is a principal in Dan Quinlan and Company, a Commercial Real Estate brokerage firm, specializing in Industrial, Retail and Land Acquisitions and Disposition based out of Jersey Village, TX. He is blessed with two beautiful and intelligent daughters, his oldest graduated from Sam Houston State University with a Bachelor's in Health Care Management and Administration, also residing in Hockley, TX with her husband while tackling nursing school for a Bachelor of Science in Nursing. His youngest daughter attends a preparatory school in Harris County, TX. She enjoys golf and break away roping. In Danny's off time, he is an active member and volunteer for the Houston Livestock Show and Rodeo with the Quarter Horse Committee, an avid team roper, enjoys hunting, fishing and time with his family and friends. Finally, he is grateful for the opportunity to give back to and supporting the families who have made the ultimate sacrifice alongside their loved ones.
Roberto Molina
Owner Molina's Mexican Restaurants
Founding Board Member NAVY SEAL DANNY DIETZ FOUNDATION
Roberto is the owner of Houston's oldest Mexican restaurant, founded by his grandparents in 1941. He currently lives in Simonton, Texas with his wife, Erica. They have one grown daughter, Mary Katherine. Roberto started out as a participant in the Annual Fundraising event back in 2011, the Danny Dietz Memorial Classic, but it didn't take long for him to learn about the cause behind the event and want to be a bigger part. He is a member of the founding board of the foundation and brings his 40 years of experience in business to the table, as well as a servant's heart. 
DJ SHIPLEY
FOUNDER GBRS/TRIBESKZ
Board Member NAVY SEAL DANNY DIETZ FOUNDATION
NAVY SEAL – 17 YRS
SEAL TEAM 10
NSW DEVELOPMENT GROUP
DJ, at 17, graduated high school and joined the navy where he served within the ranks of naval special warfare for 17 years. He served at seal team 10 and naval special warfare development group. He was medically retired in 2019 due to injuries sustained in combat and training. He is the proud father of two daughters and has been married for 15 years. He is the co-founder of tribe SK8Z lifestyle apparel brand and is a co-founder and chief training officer of GBRS group.
Troy Meredith
Founding Board Member NAVY SEAL DANNY DIETZ FOUNDATION
Troy Meredith has volunteered with the organization since 2009. He has been instrumental to keeping the organization going and maintaining the highest level of integrity and etiquette.
He is a true patriot.
Jessie McDonald
Owner/ Interior Designer JESSIE MCDONALD DESIGNS
Founding Board Member NAVY SEAL DANNY DIETZ FOUNDATION
Jessie was born in Montana where she met her NAVY SEAL husband in college 26 years ago.   She has dedicated her life since to the Navy SEAL community.  She served as one of the first to work at the NAVY SEAL Foundation, she held position as an ombudsman for her husband's command and recently was added to the BOD of the Navy SEAL Danny Dietz Foundation.  She currently is the owner of Jessie McDonald Designs and keeps busy with designing,  being a proud wife and raising two amazing twin girls.  
Chad Guest
Captain Houston Fire Department 26 years
Owner G5 Shredding Company
Founding Board Member NAVY SEAL DANNY DIETZ FOUNDATION
Chad has been a volunteer with NSDDF since 2014. I'm a Captain in the Houston Fire Department with 26 years of service. He currently lives in Beasley,Tx with his beautiful wife Denise and three sons. His second family is my fire department family and his third family are the people involved in the NSDDF. The Team Dietz Family is a special selfless group of True American Patriots, who love giving back and making a difference in people's lives who sign a blank check for our freedoms! 
Kathy Humphreys
Gold Star Wife
Real Estate Agent
Founding Board Member NAVY SEAL DANNY DIETZ FOUNDATION
Kathy is a proud wife, mother, grandmother and Realtor. She was born into a military family while her father was serving in US Navy overseas. She comes from a long family line of those who chose to serve our country. She currently serves on two board of directors, the US Navy SEAL Danny Dietz Foundation and Special Ops Survivors. She's also an Ambassador for the Tunnel to Towers Foundation. She serves for a deep love and respect for our military and first responders. She strives to ensure that the programs and services being provide are meeting the needs of the population she is serving. Kathy has vast knowledge of being a Survivor and Grief. Based on her personal tragedy of the loss of her own hero, Navy SEAL Michael Koch, and her training in grief support for the US Naval Special Warfare community. She has volunteered and served as an NSW Ombudsman and now she serves as the Gold Star Co-Ombudsman. She also Co-Leads a Military Wives Bible Study. Kathy has been a Realtor with Long&Foster Real Estate for the past 19 years in Hampton Roads, Virginia and ranks among the top agents in the region. Prior to that, she was in Retail Management for 15 years. Kathy embodies the Special Operations ethos and continues to give back to her community. Turning her tragedy into triumph and putting her unique skills to work in serving her community and fellow Survivors.
Melanie Luttrell
Entrepreneur
Founding Board Member NAVY SEAL DANNY DIETZ FOUNDATION
Melanie Luttrell is a proud wife, mom and Advocate for Veterans and their families. 
Highlights of 2017 Danny Dietz Memorial Classic Fundraiser
Please take a couple minutes to watch this video and better understand what this foundation is all about and why we do what we do. The Annual Danny Dietz Memorial Classic will celebrate it's 10th Anniversary on Memorial Day Weekend 2019. All proceeds benefit the Navy SEAL Danny Dietz Foundation and the Navy SEAL Foundation. Hope you can join us!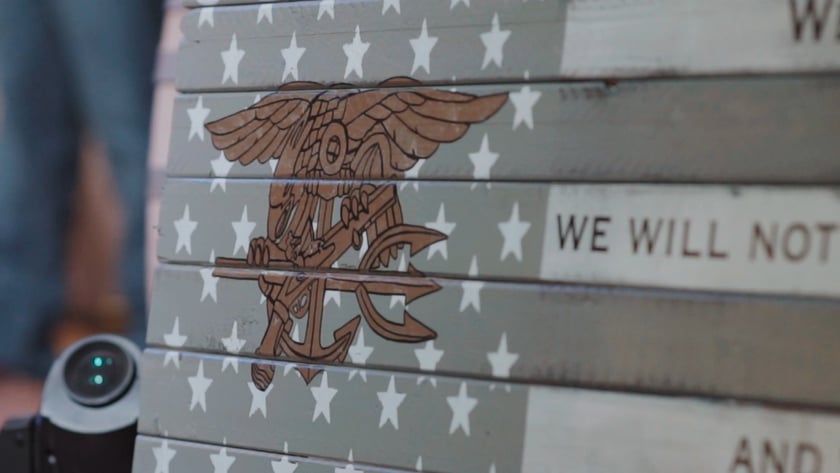 Contact Us
Email: info@navysealdannydietzfoundation.com
Phone: (832) 877-1177
Monday - Friday: 9am - 5pm
Saturday - Sunday: Closed
Donate
Your support and contributions will enable us to meet our goals and assist our country's special operations forces and first responders. Your generous donation will change lives for the better.
The Navy SEAL Danny Dietz Foundation is a 501c3 non profit.  Tax ID 47-5278378